We are all going to start to get back to life in the next few weeks, and I don't think any of us really know what to expect. I believe that there are fears wrapped around the uncertainty of not knowing if our immune systems are strong, or if we have the right tools in our wellness box to keep our immune system strong and vibrant. I wanted to shed some light here because as an alternative healthcare facilitator, I believe that a strong, healthy body is achieved and maintained by many different factors such as proper supplementation of vitamins and minerals, sufficient sunlight, sufficient sleep, uplifted spirits, non-toxic household products, a clean diet, and exercise. What if there was something else that you could use on the body to help boost your body on a cellular level in just a few minutes? Well, there is! With just a drop or two a day of essential oils, your body will receive an effective way to maintain a healthy, vibrant immune system and a boost to function on an even more optimal level than before. Incorporating the use of essential oils, specifically Young Living products, into your daily routine is an easy and fun way to maintain a healthy body.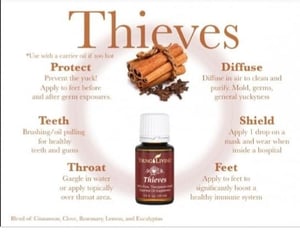 Thieves is a unique blend of Cinnamon Bark, Clove, Rosemary, Lemon, & Eucalyptus Radiata. The story of the creation of this blend is uniquely parallel to the situation we are in right now... This oil blend gets its name from a recipe that was used in Europe during the Bubonic Plague. The men who would rob the bodies of the dead and dying would pour an oil mixture over their masks, which would then act like diffusers, and they would breathe in the aromas of the herbs and spices to prevent contracting any illness or disease, and it worked! When they were caught, in an effort to receive a less harsh punishment, they revealed the recipe for their Thieves blend. D. Gary Young, the founder of Young Living, was inspired and started to use this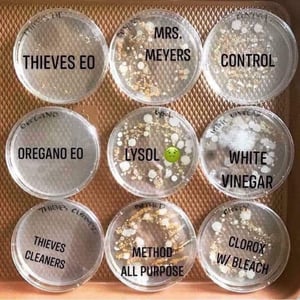 blend as an essential oil which expanded into an amazing non-toxic household cleaner, an entire dental line, plus a whole line of kitchen products. The healing and disease prevention properties of Thieves is extremely effective, and during the uncertain times of a pandemic, it should be an essential part of your wellness toolkit. Take a look at the images of the petri dishes to see the results for yourself!
PIH will be hosting a intro to essential oils in July, so keep an eye out for the event on our
Facebook page
. Katie will share more tips on how to best use Thieves and other powerful essential oils that are all part of the Young Living starter kit. Hope to see you soon and stay well!