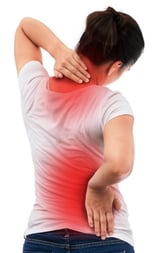 Up to 80% of the population will experience back pain. Back pain can affect people of all ages, from adolescents to the elderly. It is the single leading cause of disability, preventing people from engaging in work and other everyday activities. Back pain is one of the top reasons for a person seeing their doctor. This has contributed to the opioid epidemic in the United States, which is destroying lives at an alarming rate, with over 15 million people aged 12 or older now reportedly addicted to these prescriptions.
Well over 10 years ago now, the Journal of the American Medical Association recommended chiropractic care for people suffering from back pain–and noted that surgery is usually not needed and should only be tried if all other therapies fail. This is due to the common danger of irreversible disability and the variable success rates of back surgeries. Any surgery should always be pursued only as a last resort.
Conservative care should always be chosen first! The Agency for Health Care Research & Quality recommends chiropractic adjustments as the only safe and effective, non-drug form of initial professional treatment for acute & chronic low back problems. The Annals of Internal Medicine points to chiropractic care as one of the major non-drug therapies considered effective for acute & chronic low back pain. The medical journal Spine reports that chiropractic adjustments for back pain are just as effective as a combination of drugs and exercise, while being far safer than standard medical treatment.
Our Doctor of Chiropractic, Dr. Lillee, would love to not only safely help you increase your quality of life, but also Prevent you from having these kinds of problems in the future. You can Schedule with Dr. Lillee HERE.